For many, getting in shape and working out can seem like a chore. Swim spas offers an array of resistance swimming options, helping you get in shape while enjoying the relaxing benefits of a hot tub. Swim spas are also an excellent option if you do not have the room required for a swimming pool.  Hottubsontario.com and International Pool & Spas is proud to offer swim and wellness spas from Coast Spas, a Canadian company that makes the best swim spas in the world.
Swim Spas | History and Overview
Dating back to as early as the 1970's, the first swimming machines were attempted. However, they received a subpar reception and did not meet consumers' expectations. Designed with a tank of water, and a few jets from a pump or two, these versions paved the way for future models.
During the 1980's, improvements were made to resistance swimming technology, especially in regards to the single pump system. The 1980's marked the use of propellers and giant paddles allowing for a constant water flow, and thereby pushing the overall viability of the industry.
As time went on, tweaks to the overall design continued and resistance swimming technology evolved. This includes improvements to the water jet and pump technology such as direct jet current and systems that route the current through various channels and troughs are just some of the advances.
Today swim spas offer a wide array of options. As well, swim spas are ergonomically designed, and enhanced to provide optimal therapeutic benefits. To top it all off, consumers can customize their swim spa to suit their needs.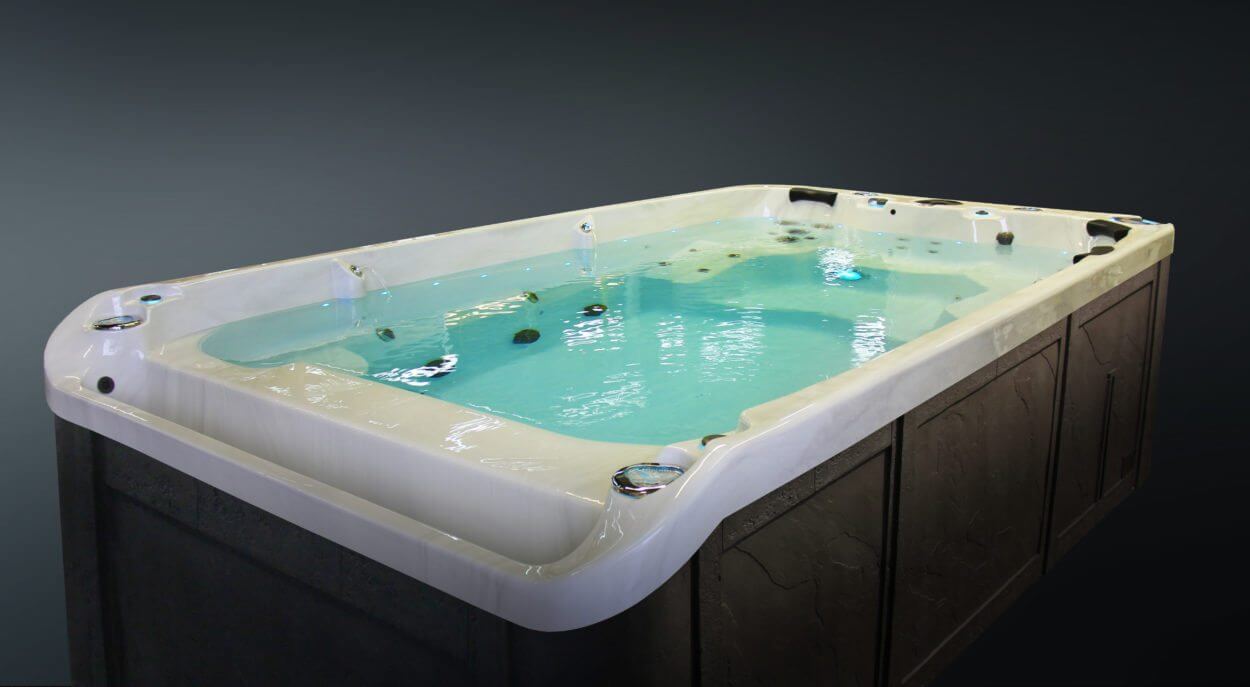 Health Benefits of Swim Spas
A proper diet and exercise allow for many health benefits. Swim spas are a great tool for hydrotherapy. Exercising offers many benefits in itself, including:
Decrease your chances of getting cancer
Decrease your chances of getting diabetes
Reduce your risk of infection
Lower your cholesterol
Allow for a better sleep
Extend overall life span
The warm water and greater-than-atmospheric pressure of a swim spa offers an array of benefits as well. The swim spa provides an increase in cardiac output with a decreased pulse rate.
Meanwhile, the warm water will dilate the blood vessels and therefore increase circulation. This combination allows for an increase in endorphins during your workout. This also increases the flow of nutrients, making way for healing and regeneration of cells. It also works to decrease any pain-causing chemicals. If your spa includes benefits of hydrotherapy, you will see better immune function, circulation and digestive function, as well as decreased pain.
Choosing the Right Swim Spa
Regardless of what you're looking for when it comes to space and spa, there are a wide array of options available. Swim spas are available as in-ground or above-ground models, single zone and dual zone, as well as indoor and outdoor models. Swim spas are also available in portable and plunge pool models. Depending on the model you choose, you can enhance your swim spa with treadmills, sunbrellas, and other upgrades.
For instance, Wellness Health and Fitness Spas offers a diverse series of spa options. With six models available, including the first and only infinity swim spa, you can find the spa that's right for you. You can also customize your swim spa with a variety of cabinet finishes from Canadian Cedar to Luxury Slate. You can also choose custom acrylic shell colours.
Available options with the Wellness Health and Fitness Spas series include interior and exterior lighting, Bluetooth audio with available upgrades such as subwoofer and retractable speakers, and video options such as LCD TV with DVD player and pivoting mounting arm, depending on the model. There are many energy efficient and purification options available too.
The costs vary from model to model, and depending on the brand you choose. There are also many additional costs. Additional costs will include installation costs, running costs, and maintenance costs. It is important to factor those into your budget when looking for the perfect swim spa for you.
Swim Spa Installation
Based on the model you choose, whether it is in-ground or above-ground, it will be important to make an installation plan. Here is a general list of things that you will need to take into account, regardless of the model you chose:
Make sure you have a proper power supply. In most cases, it will require the installation of a waterproof power cable. Most swim spa models require a specific ampage, generally somewhere between 20 and 90 amps. Note: it is best to check with the manufacturer of your swim spa, prior to installing the cable.
It is important to ensure the delivery and installation team can access the installation space. This may include access for the delivery truck, forklift truck or crane, and so forth. You can ask your manufacturer for delivery and installation details, and what the process requirements are.
When it comes to above-ground installation, you will need to ensure you have a firm and level surface. That surface will then need to be secure enough to hold the weight of your swim spa once it is filled with water. Depending on the model you choose, it could weigh over 1 tonne. As a result, it is often recommended, regardless of indoor or outdoor installation, that a swim spa is installed on a concrete slab.
An in-ground installation of a swim spa requires more work than an above-ground installation. This is due to having to dig out a hole for the swim spa. The hole will need to be approximately one foot wider and longer than the initial dimensions of the swim spa and its accessories, such as the pump. This will allow for equipment to move around, and the ability to install all the necessities. You will need to do the following:
Once the hole has been dug, the concrete base will need to be laid down at the bottom of the hole, with shotcrete on the walls of the hole. It is important to make sure the hole has proper drainage.
The swim spa will then be lowered into the hole and wired by your electrician.
Fill the gaps between the swim spa and the hole with the dug up dirt.
Add water to your swim spa.
Relax and enjoy your swim spa.
Swim Spa Maintenance
When it comes to your swim spa, it is important to take proper care to protect your investment. Utilizing a cover is important to help fight against debris. It is also important to ensure that water quality is maintained, especially as a preventative measure.
This requires sterilizing and sanitizing your water, which fights against germs and bodily fluids, algae, and other contaminants. Experts recommend that while chlorine is standard for swimming pools and will be fine with a swim spa, it is actually better to utilize bromine as it can withstand the higher temperatures. If you find algae spots in your swim spa, it is important to drain the unit and clean it with a recommended cleaner. Next, refill the swim spa with new water.
It will be important to measure the water of your swim spa's alkalinity. This should be done weekly. It is also important to test the calcium and other chemicals, measuring how hard it is. Hard water can damage the parts of your swim spa. If you have hard water, you can treat the water with a water treatment kit.
You will also need to check your pH levels which is one of the most important factors to check. This will help determine how acidic or alkaline your water is. This should be checked when checking your alkalinity. In most cases, your swim spa will come equipped with a testing kit. Ideally, you will be looking for a pH of 7.5; however, 7.4 or 7.6 is okay. To do this, simply take a sample of your swim spa's water, and follow the instructions from your pH kit. If your pH is too high or too low, there are chemical products you can purchase to bring it back to the desired level of 7.5. Note: While some swim spa owners recommend utilizing household products to balance your pH, experts recommend steering away from household products such as baking soda, white wine vinegar or lemon juice to aid in balancing your pH.
Need help finding the perfect swim spa?
Hot Tubs Ontario is proud to offer the Wellness Health and Swim Spa series, which includes Wellness Infinity Swim Spa, Wellness I Swim Spa, Wellness II Swim Spa, Wellness II Lounge Swim Spa, Wellness III Swim Spa, Wellness IV Swim Spa, and Wellness V Swim Spa. Each swim spa offers its own unique features and benefits. Proud to serve Toronto and surrounding area, visit one of our retail locations today to find the perfect swim spa for you!